Signing and Encrypting Your Files
Now that you have a certificate of your own and a certificate from Bob, let's make some real use of these certificates.
Assume you are working on a marketing plan for a new product while you are on a business trip away from your company. You created a Microsoft Word document called Market.doc. You need to share your progress with Bob, your boss. So you email the file Market.doc to Bob every other day and Bob makes comments and emails the file back to you.
You want to make sure the document is securely delivered to Bob, not losing business secret to your competitors or being tampered with during transmission. You decided to sign and then encrypt the document before you exchange the file.
The following section shows you how to use iSafeguard™ to sign and encrypt this document.
Start Windows Explorer if it is not running;
Locate your file Market.doc from Windows Explorer;
Right click the mouse button on the file;
The following popup menu shows.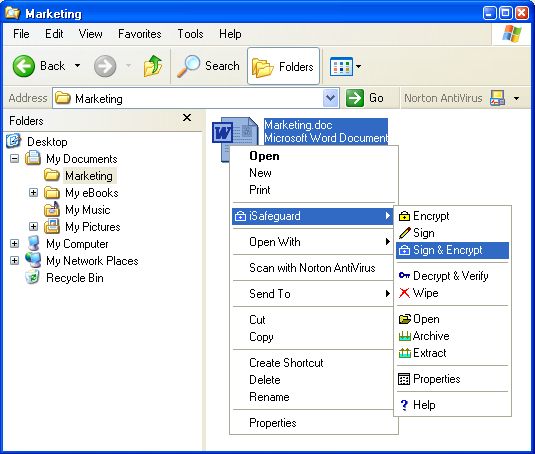 Select iSafeguard and then Sign & Encrypt from the popup menu;
Selecting Recipients and A Signer
A dialog box is shown to let you select recipients and a signer. You may select one or more recipient from the list. Since you are sending the file to Bob, select him as a recipient. If you want to read the file after encryption select yourself as a recipient as well.
Select both Bob Evans and Michael Davis from the recipient list;
Select Michael Davis from the signer list;
Click the OK button;
The Progress Window
A progress window is shown to tell you the status of the signing and encrypting process. When done the progress window closes itself, and a new encrypted file called Market.doc.xcb appears in the Windows Explorer window.
Now you have successfully signed and encrypted the document. The signed and encrypted document can only be decrypted either by Bob or yourself. No one else can get the content of the file. It is now safe to send the encrypted document to Bob through the Internet, without worrying losing your business secrets.
Getting Information About The Signed & Encrypted Document
You must be very curious about the crypto properties of the signed and encrypted file. To do so
Locate file Marcket.doc.xcb;
Right click the mouse button on the file;
Select iSafeguard and then Properties from the popup menu;
The crypto properties dialog shows as follows. The General tab shows you the overall information including encryption and signature algorithms used.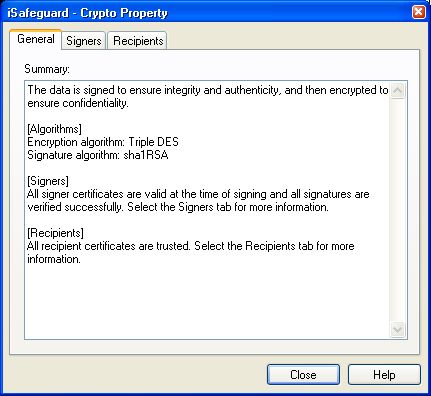 Click the Signers tab to find the signers and signature verification information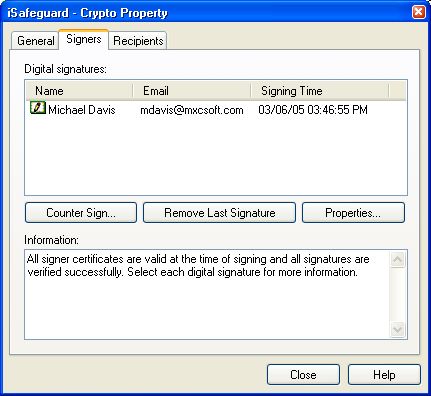 Click the Recipients tab to find all the intended recipients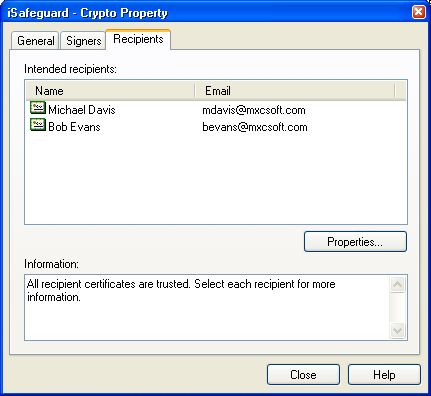 Click the OK button to dismiss the dialog.
Now you know how to sign and encrypt a file.